Sabah, Malaysia, is blessed with many beautiful beaches and islands. There are about 500 islands within Sabah waters, some you may have heard of such as the well-known Sipadan, Mabul, Lankayan, Layang Layang and Mataking Islands. But a vast majority of these islands have yet to be given official names although they are known locally.
Due to its location, Sabah is also often referred to as "The Land below the Wind" because Sabah is located just south of the typhoon-prone region.
Explore the Marine Life Around Tunku Abdul Rahman Park
Tunku Abdul Rahman Park consists of five islands: Sapi Island, Mamutik Island, Manukan Island, Sulug Island and Gaya Island. The park is only a 10 minute boat ride away from Kota Kinabalu city.
Established in 1974, the park encompasses 49 square kilometers of which two-thirds are sea. Tunku Abdul Rahman has many surprises such as beautiful sea fans, soft and hard corals found at the edge of the outer reefs. Marine fish are mainly small to medium size with the occasional large pelagic fishes and turtles.
Diving here is mild and visibility ranging from 5 – 15 meters. Very accommodating for new divers but also has something to offer for experienced divers.
Edgell Patches, Agil Reef, Coral Garden, Oriental Park, Sulug Reef, Pyramid Reef, Hornbill Beach, Police Bay, Clement Reef, Ron's Reef, Black Coral, Mid Reef, Sapi House Reef.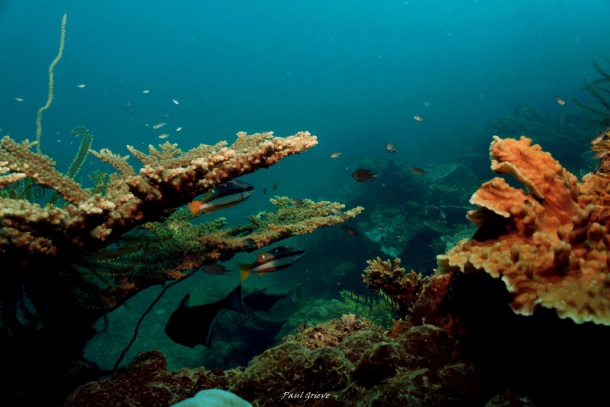 Itinerary
Meet at Jesselton Point at 8:45 a.m. If you don't have your own dive gear, this is where we will help you choose the right size wetsuit, BCD and fins for you.
Head out to Tunku Abdul Rahman Park Sapi Island.
Go on first dive.
Go on second dive.
Break for lunch.
Head back to Jesselton Point at 3:00 p.m.
What to Bring
Swimsuit, an extra change of clothes, towel and sunscreen.
Some cash for lunch.
Drinking water.
How Much Does it Cost to Dive Tunku Abdul Rahman Park?
Diving at Tunku Abdul Rahman Park costs MYR 250 per person. But if there are 2 or more divers in your group, then the cost is MYR 200 per diver.
| No. of Persons | Price |
| --- | --- |
| 1 | MYR 250 per person |
| 2 or more | MYR 200 per person |
The cost includes
Transfers by boat between Jesselton Point and Tunku Abdul Rahman Park
2 dives led under the watchful eye of your NAUI Divemaster
The cost does not include
All Sabah State Government Fees including Jesselton Point Jetty Fee, Sabah Parks Conservation Fee and Diving Permit Fee.
Optionally, you can choose to add on the number of dives:
| Optional Add On | 1 person | 2 or more persons |
| --- | --- | --- |
| One Additional Leisure Dive | MYR 120 | MYR 100 |
| One Night Dive | MYR 200 | MYR 130 |
For your reference the Sabah State Government Fees are:
| Fee | Malaysian | Non-Malaysian |
| --- | --- | --- |
| Jesselton Point Terminal Fee | MYR 7.20 per person (MYR 3 for children under 12 years of age) | MYR 7.20 per person (MYR 3 for children under 12 years of age) |
| Sabah Parks Conservation Fee | MYR 3 per person (MYR 1 for children under 18 years of age) | MYR 10 per person (MYR 6 for children under 18 years of age) |
| Sabah Parks Diving Permit | MYR 20 per person | MYR 50 per person |
Get in touch with us by calling +6016 812 0101 or Facebook Messenger @divingkotakinabalu.